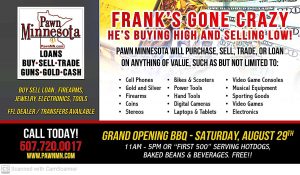 Pawn Minnesota will be Open for normal business Hours:
Monday thru Saturday 9-6pm.
Pawn Minnesota
Faribault
230 Central Ave
Faribault MN 55021
507-384-3777
.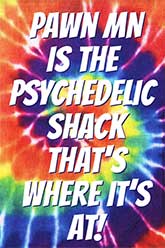 Welcome to Pawn Minnesota!
Hablamos Espanol.
Pawn Minnesota is a pawn shop serving the Faribault, MN and the surrounding community.  Pawn Minnesota is located in heart of downtown Faribault, Minnesota on the corner of Third Street and Central Ave. Now a five year old pawn shop serving the Faribault community, our pawn professionals are knowledgeable, fair and reasonable. Whether you are buying, selling or just shopping for a good deal, Pawn Minnesota can do it all! Stop in and visit us. 230 Central Ave. NW, Faribault, "Remember there is nothing that we would not consider buying or loaning on. As long as there is value we're able to make a deal happen"
Check out one of our pawn professionals, who can respectfully and confidentially check the history, condition, and current value of the personal property you are interested in selling or pawning. We will pay top dollar based on current electronic online fair market value.
We reserve the right to refuse any item based on condition, current market value, and our ability to successfully market the item.
LIKE US ON FACEBOOK 
more about events at Pawn Minnesota
THANK YOU! GRACIAS! GRAZIE! MAHADSNID!
Good morning and Whatta beautiful morning it is! My east coast DNA is all about Rock and Roll and Soul! And Sinatra, of course. I've had the opportunity to layout in near sync some video and stills to one of Motowns Greatest…The Legendary Temptations. . .The Psychodelic Shack aka Pawn Minnesota. I know I'm no Bobby DeNiro or a Martin Scorsese But what I do know is I'm mixing it up having some fun, loving it and I'm grateful and blessed. You might even say "Frank's Gone Crazy! He's Buying High and Selling Low! 'cause that's what's best for his Pawn Minnesota customers!!
Pawn Minnesota is the Psychodelic Shack!
…people let me tell you bout a place I know
to get in dont cost much dough…
It's got a neon sign outside tthat says
Come in and take a look at your mind
You'll be surprised at what you might find…
Right around the corner you know,
It's jus across the tracks…
People I'm talkin bout the Psychodelic Shack! ! !
Firearm Transfer Fee
$20.00 Fee FFL TO FFL

Save
Save
Save
Save
Save
Save
Save